Clasanteri is a company specialising in buying, selling and restoring classic cars. For restoring the cars we use selected partners who bring the story of the vehicles back to life. Our classic cars are delivered to you safely and affordably no matter where you are. 
why do we do this
Dedication for cars is in our genes
In my childhood I had the privilege to sit on the velour seats of a Range Rover Classics on the way to school and to the summer cottage for summer holidays. That experience and my family's dedication for cars has led to irreversible results. In my case it's called Clasanteri. 
The devotion for cars runs in the family. My father got it from his uncle, who became known as the mechanic for the rally legend Timo Mäkinen. He tuned the Minis that brought the first wins in Monte Carlo race to Finland. Also in my father's career British cars have played a huge role and by the looks of things I'm not an exception. 
I have worked with cars during my whole career. I have worked as a car journalist in different media, gained experience in a car shop and developed and commercialised mobility services. At the same time my own beloved classic car hobby has taken me to this point. 
The world is changing and so too is our daily travelling. The classic cars are important because their unique history is filled with our personal stories, intriguing technology and amazing driving experiences. Even if technology is going further classic cars are the first thing that people want to save and restore – some people are even turning them into electric cars. In many cars the original technology has such an important role in keeping the value and character that it's not an option to update it.
The aim of the classic car is not to solve future mobility, but to bring pleasure and restore a part of the culture. History has shown that classic cars are also good investments, for money and for you who want to collect and enjoy about the moving sculpture and unique driving experiences. The classics are never forgotten.
Santeri Petrell
Range Rover 3.9 Efi Vogue Aut. '1992
Range Rover 3.9 Efi Vogue '1992, one of the last Range Rover Classics sold in Finland as new. Extensively restored and refurbished during 2020 and 2021. Where cars sold in Finland as new were usually equipped with just standard equipment, this car was already relatively luxuriously equipped at the factory: Original Bull bar, extra lights, side steps, sunroof and air conditioning. Festive car in original metallic Plymouth Blue.
Rover Vitesse '1983
– Sold to Switzerland – In 1982, Rover decided to convert one of the SD1 factory race cars for street use and handed it over to Rover's CEO for a drive. Soon after, the decision was made to make a fast and efficient street car for production. It name would Vitesse, in French fast.
This super rare LHD Vitesse has been completely restored and rebuilt between 2011-2012.
Range Rover 4.6 Efi Vogue '1993
Last Range Rover Classic sold as new in Finland. Built for safari use. In 2021, the car's engine and catalytic converters were renewed. The engine was upgraded to a completely new V8 Developments Rover 4.6 Performance engine.
Fresh Mot / Tüv inspection done in 09/2021.
Range Rover 3.9 Efi Vogue '1992
In 1992, two Roman Bronze Range Rover Vogue's were sold as new to Finland. The registration codes were AFV-220 and AFV-221. Long time ago, the AFV-220 was my first Range Rover personally. Now it's the turn of the siblings better preserved AFV-221.
MG B '1964
– Sold to Nürnberg, Germany – MGB is synonymous with the classic sports car. It was popular across class boundaries especially in the 1960s, and no wonder why. Its body was beautiful and light, and the car had excellent driving characteristics. This very early "Pull Handle" MGB was imported from Canada to Finland in 1989. The car has been completely restored to meet the original certificate from the factory.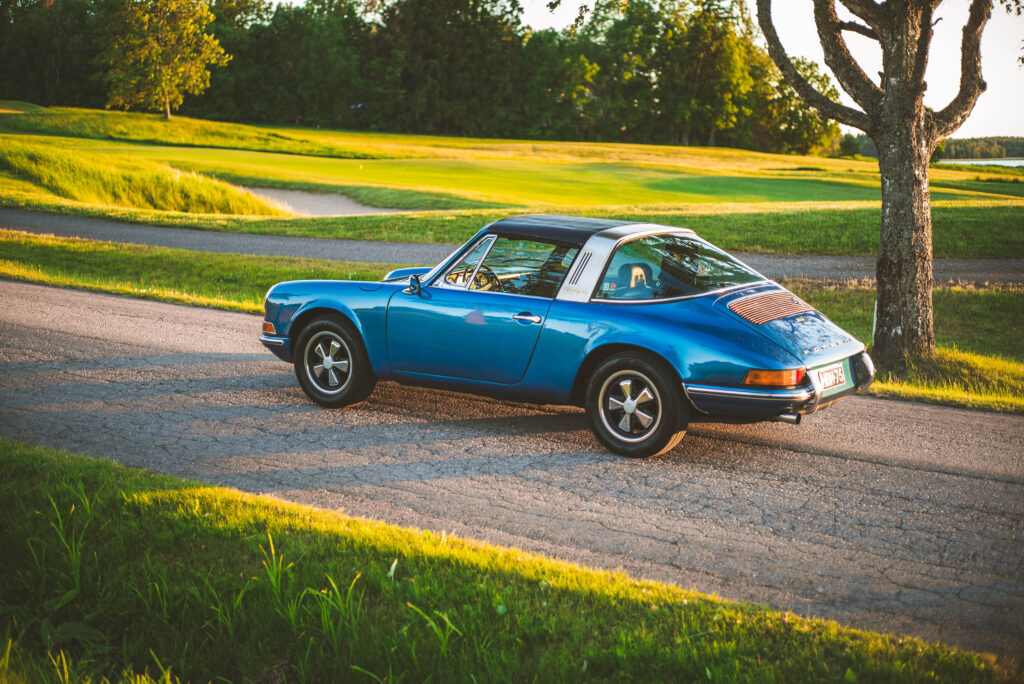 Porsche 911 2.2 T Targa '1971
– Sold to Tampere, Finland – "The Targa combines the romance of a roadster with the practicality of the hard-top coupe. There is no car like a Porsche. And there is no Porsche like a Targa.", advertised Porsche in early 70's.
This 911 2.2 T Targa '1971 is perfect Matching Numbers and colors car with special history.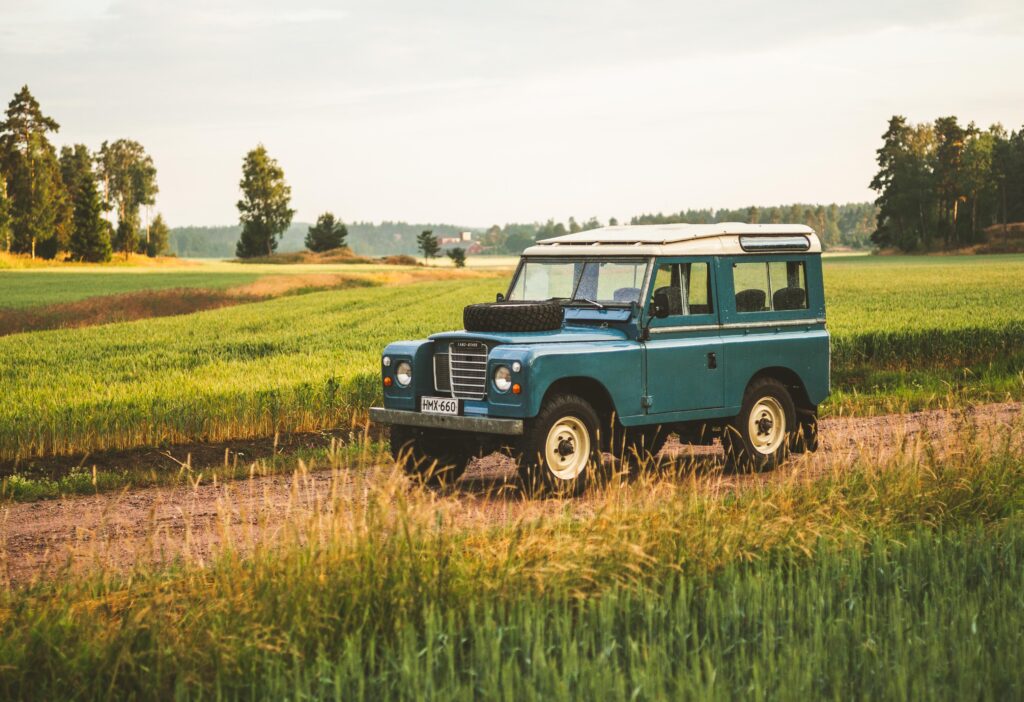 LAND ROVER SERIES III 88" STATION WAGON SAFARI '1981
– Sold to Helsinki, Finland – Mr. M. Vastinesluoma bought this Land Rover Series III as new in May of 1981. The car spent its first three years in Nokia, Finland and then Mr. U. Sorsakivi from Kiikala, Finland bought it 31.10.1984. Mr. Sorsakivi used it 14 years and kept escpecially good care of the Land Rover and serviced it annually until 1995 when he storaged it in his garage. The car was driven only 89 000 km's. The car was storaged in his garage 23 years from 1995 to 2018, when he decided to sell it.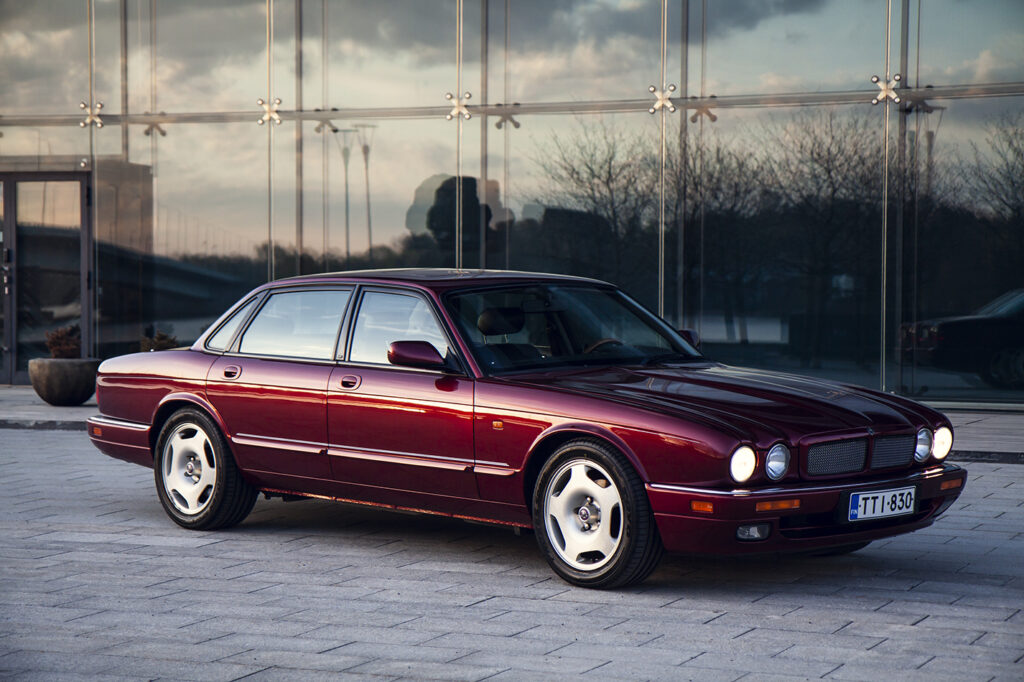 Jaguar XJR '1996
– Sold to Helsinki, Finland – A beautiful and spry supercat, one of 6547. Impressive and immediate sportscar performance and Jaguar's luxurious comfort and silence. Sporty but comfortable suspension. That is what Jaguar XJR is all about.
Range Rover Suffix D '1976
– Sold to Switzerland – One owner Garage Find. Matching numbers, all original documents. After 25 years stood unused in its first owner garage, we got complete body off – nut & bolt restoration done on it. Sahara Dust with original Brushed Bronze Nylon interior.
Range Rover 3.5 EFi aut. vogue '1988
-Sold to California, United States – In April 1988, my father sold a new Alaskan Blue Range Rover from Land Rover Dealer Autorep to Mr. M. Hoikkala in Kuusamo, Northern Finland. Last summer we bought this car back from its first owner and it is the best original condition Efi Vogue we have ever seen. Original engine has been refurbished in autumn 2020.
Ford Escort RS2000 MKII '1978
-Sold to Netherlands- Not many cars as important when it comes to Finnish motorsport history as RS Escorts. Between 1976 and 1980, Ford produced only about 10,000 units of RS2000 MK II. This "Droop Snoot" was imported from the Netherlands to Finland in 2007. The car's SOHC engine was completely refurbished in 2020.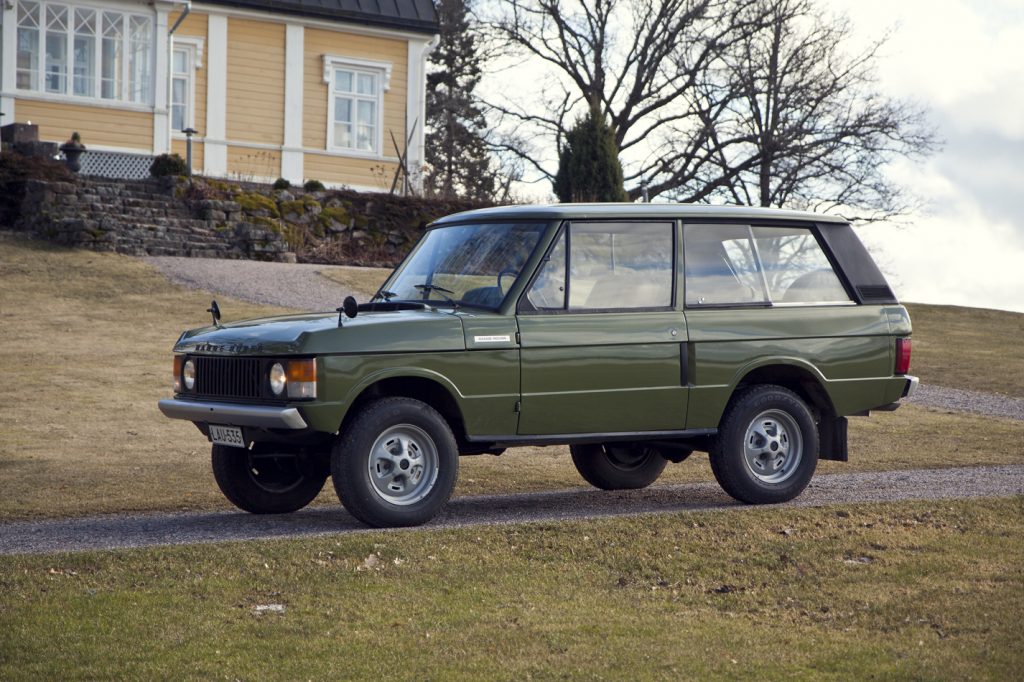 Range Rover Suffix C '1974
– Sold to Milan, Italy – The Range Rover Suffix C was sold new on 19.09.1974 at Autoliike Vanhanen in Rovaniemi, Lapland and it was one of 183 Range Rovers sold to Finland in 1974. During 2018 and 2019, the car was comprehensively refurbished with respect to its original character.